Houston Lawn Sprinklers | Helpful Tips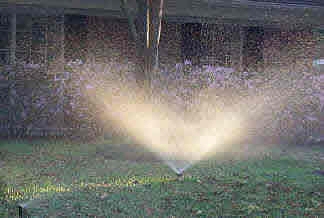 Helpful Tips When Selecting A Sprinkler Contractor
Texas Licensed Irrigator #4846
Ask if the contractor is a member of the Better Business Bureau.
Be sure the person you are interviewing is the licensed irrigator and can show you a copy of his or her license from the State of Texas. (Don't be afraid to ask!)
Make sure the contractor is employed by the company you originally called. If he is subcontracting for another company, you may be paying too much. Also, you may have trouble with warranty or repair problems!
Make sure your contractor has his continuing education credits. You want to be sure he is up-to-date on the latest technology.
Get bid fully itemized, # of heads, type of controller, # of valves, (including name of manufacturer), etc.
Call companies' references!
Confirm Workers Compensation Insurance and General Liability Insurance. (Should provide copy with bid)
Be sure you have a contract that states the warranty and terms.
Be sure you get at least a 3-year warranty on your system.
Make sure the TNRCC, Texas Natural Resource Conservation Commission's phone # is printed on your contract. Check to make sure there are no negative reports on file for the contractor. Use the internet! TNRCC has a web site.
Make sure Irrigation License Numbers are clearly printed on contractor's vehicle.
Ask contractor to show you examples of parts used.
Be sure you get detailed information (cut sheets) on all components that will be installed with your bid package, i.e., type of controller, valves, pop-up sprays, rotaries, etc.
Don't just take the low bid! All irrigation systems are not created equally! You may save money initially, but later down the road you will pay to redesign or replace some of the "short cut expert's" work.