Houston Sprinkler Systems | Common Contractor Shortcuts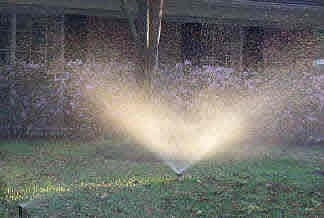 Common Contractor Shortcuts on Sprinkler Systems
Texas Licensed Irrigator #4846
When comparing sprinkler system estimates, "there is generally a reason for a wide range in prices". Below are a few design practices that could cause these price discrepancies.
Installing a "lean system" poor design, combining large turf areas with small turf areas on the same valve, or putting too many spray heads on one valve. This allows the "shortcut expert" to utilize a 6-Zone Controller instead of a 9 or 12-Zone Controller that may be more appropriate for certain situations. This practice cuts down on the "shortcut experts" labor rates and parts cost, not to mention the lack of control you have over your yard. Certainly there are instances where a 4 or 6-Zone Clock is appropriate. It is when you clearly need more control over your yard that a larger controller and more valves should be used.
Digging shallow trenches for irrigation piping. (Saves time).
Not removing the grass before digging trenches with a trenching machine. (This leaves an ugly dirt line, until the grass grows back).
Mounting the Controller in an inconvenient location in garage (or not mounting the controller in garage at all).
Putting too many heads on one zone. This exceeds the meter's flow rates and causes poor head pressure and coverage.
No Pressure Vacuum Breaker is installed. This is a hazard for you and your water supply. This device protects your water and the city's water supply. If contaminants back siphon in through a low sprinkler head, you could contaminate the city's water supply and the water you are using in the house.
Using cheap products (hardware grade parts), i.e. plastic pressure vacuum breakers, light duty pop-up sprays and rotors.
No swing joints or flex pipe on all heads. This allows the spray head to move somewhat if a car or heavy equipment rolls over a spray head. (Saves on repair costs).
Over-spacing heads. No head to head coverage or two-thirds overlap of the spray pattern. (Improper water distribution to plant material.)
Using the same valve on lawn and shrubbery.
Using an indoor controller outside.
Using pop-up sprays with non-removable nozzles (less expensive). Requires replacing entire pop-up if damaged.
Using cheap wire - small gauge - not designed for direct burial. 16-gauge wire is recommended.
No waterproof wire connectors for splices. (Creating shorts).
Not using valve boxes for zone valves or using a box that is too small to access a valve.
Not using the correct backflow device. (City requirement).
Not obtaining permits that the city requires. Homeowner loses benefit of city inspection of sprinkler installation.
No insurance on employees. Homeowner could be involved if employee is injured on their property. General Liability and Workers Compensation is recommended.
No follow-through on warranty.
No instructions on how to use the controller; or improper programming of controller.
Not back-filling trenches properly. (Not compacting).
No sufficient back-fill over pipes in trenches.
No boring under sidewalks - spraying over sidewalk to cover a specific area
Under-sizing the main line, using 1" main when 1-1/4" should be used. (Lowers parts cost and deliver less pressure and flow).
Using 2" or 4" pop-ups where 6" or 12" pop-up sprays should be used or using 2" pop-up sprays where 4" sprays should be used. (2" pop-ups are not recommended).
No water conservation devices: rain shutoff device, pressure compensating popup sprays (PRS) or (SAMS).
Running pop-up sprays and rotaries on the same zone to save wire and valves. These two spray heads deliver different GPM (gallons per minute).
No main waterline cutoff ball valve. This shutoff is for freeze prevention or main break emergencies.
Location of pop-up sprays is in improper spots. (Poor coverage).
Did not make trench for piping deep or wide enough.
Not tying into water meter for irrigation service. Some shortcut experts will use a faucet for the main supply tie-in. (Causes poor pressure and flow to system).
Note: There may be a few construction limitations that may cause irrigation trenches to be shallow, i.e. heavy tree roots, or concrete obstructions, sidewalks, etc.