Landscape Design & Installation
For the initial consultation, Bayside Landscape Services will arrange a time to meet with you at your property to discuss your landscaping needs. We will walk the property with you and look at the areas where work is needed listen to your ideas and take notes & measurements.
If you are interested in having us design a plan and prepare a proposal, we will need a copy of your plot plan (survey). Some cities require a copy of the plot plan to obtain a permit, plus the survey gives us the details we need to draw your design. We do not require a fee to prepare a design and proposal. It usually takes two weeks to prepare.
Once the design and proposal are complete, we will contact you to schedule an appointment time to discuss the details of the design with you and your significant other. We prefer that all parties involved with the project be present during design and bid discussions. At the completion of the discussion, if the proposal is accepted, we will be able to estimate a start a date based on our current work schedule.
Note:
The design that we present to discuss your project is an original and cannot be left with the customer. A copy will be made and given to you when a contract is accepted and the deposit is received.
In the event a copy of the design is requested prior to making a commitment on the project, a price will be quoted for the cost of the design at the time of the request. The fee is non refundable and paid at the time the copy is received. If the work proposed in the design is undertaken at a future date, the design fee can be applied to the cost of the project.
Other Services You May be Interested in Are:
Update Existing Old Flower Bed Designs
Create New Flower Beds
Have Bayside Get Involved with Your Builder, or Designer During Pre-Construction.
Help Locate or Orient New Pool and Border Landscapes on Site Plan. Coordinate Overall Site Plan with Builder Prior to Construction
(Get it Right the First Time!)
Plants
Plants are all hand picked by owner from select local wholesale nurseries, to provide our customers with the freshest and most diverse stock available.
Bed mix
We buy the richest mix available from our soil suppliers which has a typical blend of topsoil, sharp sand, composted rice hulls, black humus compost, mushroom compost.
Mulch
We use shredded hardwood bark. This is excellent mulch for ornamental planting beds. Shredded hardwood's fibrous texture helps the mulch stay in the flower bed. Washing out after rains and blowing by wind are minimized when this mulch is used.
Bed preparation
We hand-till the existing soil to a depth of 6"-8" before new bed mix is added. This allows for new plant roots to penetrate existing sub base and grow a healthy root system. This also increases water, oxygen and nutrient absorption and allows new bed mix to blend with existing soil.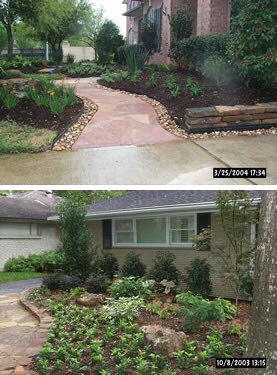 Fertilizers
Organic fertilizers are used. Nutrients are derived from and/or contain: bat guano, bone meal, alfalfa meal, rock phosphate, fish meal, kelp meal, humate, sulfate of potash, sulfate or potash magnesia, paprika, molasses, selected rock minerals, bio-inoculants.
Soil Amendments
We use soil activators, root stimulators, and liquid seaweed/fish emulsion. They all help to set newly planted material. Individual slow-release plant tablets are placed beneath each shrub or tree.
Remember, you can buy the healthiest, most expensive plants in town and put them in poor soil and improperly prepared beds. This will almost guarantee poor plant performance. Bed mix and bed preparation are the first steps for growing healthy plants.