Low Voltage Night-Lighting 12-volt outdoor lighting is safe and economical.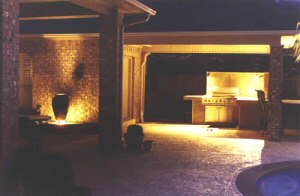 Low voltage lighting is the "icing on the cake" for your landscape. Lighting gives your property a finished look and also provides some security to those dark areas in your yard.
Lighting has advanced to a more efficient no bulb fixture. We have been phasing out the standard Halogen bulb (MR16) to be replaced with "LED" green technology. "LED" means Light- Emitting Diodes, these fixtures put out light that looks just like the familiar warm Halogen bulb.
These "LED" lights are less expensive to operate and are enclosed in a sealed environment. This sealed environment is the actual light fixture that encloses the diode board. These "LED" diodes can't be touched or changed out like other less expensive store bought "LED" diodes. This sealed environment is the best way to keep moisture and humidity out.
Moisture and humidity are what usually cause standard replaceable "LED" light diodes/boards to fail prematurely. This sealed environment is why most manufacturers will warranty the diodes and fixtures for up to 10 years. You will not have to worry about having to replace burnt out Halogen bulbs ever again!!!
"LED" lights can be easily installed on an existing Halogen low voltage system. There is no need to run more direct burial wire to accommodate these"LED" lights. If the existing Halogen (MR16) low voltage wire and lights are operational and are in good condition, you can splice the new fixture into the same wire (run). You will also be able to put more fixtures on the same wire since these "LED" fixtures use significantly less electricity and are lower in wattage than an equivalent Halogen bulb.
This advanced "LED" technology allows the home owner to take advantage of useful features which can be added to this lighting system as an upgrade. If you would like to dim your lights, then the appropriate dimmable transformer and light fixture will need to be purchased.
If you would like to get the most performance out of this lighting system, please consider the following optional features:
1. Programmable light (Zones): Each run of wire with lights can be programmed to a specific time for turning on and turning off.

IE: You can leave just the path lights on until 3:00 AM while the other lights turn off at 12:00 AM
2. There are colored lights that can be selected for various times of the year and for specific fixtures.

IE: Blue, Green, and Red for wall lighting accents. (All colors are controlled by the transformer) This requires a specific transformer and light fixture
3. Control and see the light (Zones) using your Mobile Note Book from existing WIFI in your home. This will also allow you to adjust or turn off various lights from your Mobile Note Book as well.
4. Also, if the dimmable fixture is purchased, you can dim any light or section of lights at a pre programmed time.

IE: The main house wall wash lights automatically dim at 10:00 PM to set a different mood when entertaining.